| | |
| --- | --- |
| | Explore Indian adventure with bikes or enjoy a jeep safari tour. |
LADDAKH - An Introduction

Laddakh lies in the eastern half of the state of Jammu & Kashmir in the far north of India. It shares its much disputed north western border with Pakistan, while to the north lies the Chinese province of Sinkiang, and to the east, Chinese occupied Tibet. It covers an area of approximately 60,000 sq. kms. and ranges from 2600 metres to 7670 metres in elevation, making it the largest and highest district in India.

Laddakh is sandwiched between two mountain systems - the Karakorams to the north and the Himalayas in the south. Laddakh can basically be divided into five geographical regions - Central Laddakh (the heartland of the Indus valley), Nubra (lying to the north of the Laddakh range), Rupshu (a dry, high altitude plateau lying in the south-east of Laddakh, Zanskar (one of the highest inhabited regions in the world) and western Laddakh or Lower Laddakh (around Kargil).

Laddakh really is a "Little Tibet". Although Tibet is politically part of China today, Laddakh, like parts of Nepal, is situated on the Tibetan plateau. Laddakh has many Tibetan refugees who fled Tibet with the invasion from China. The daunting height of the Himalaya adds to its isolation, even today the main road routes to Laddakh remain closed for more than six months of each year. Until 1979, there were no regular civilian flights into Laddakh so from October to June the region was completely cut off.
Today, it is full of amazing sights - strange gompas perched on soaring hilltops, dwarfed by snow capped mountains, the barren shattered looking landscapes splashed with small, brilliant patches of green and ancient palaces clinging to sheer rock walls. But most of all it is notable for its delightful people - friendly as only Tibetans can be and immensely colourful.
THE ZANSKAR RIVER RAFTING EXPEDITION
Our "special" yearly feature drives through most of western Laddakh, monasteries, palaces, villages, hikes and travel to one of the most surreal places on the planet. The trip begins with a flight over the Himalayas into the Trans-Himalayan region of Laddakh in the state of Jammu and Kashmir. We spend a couple of days in Leh town acclimatizing at 11,000 feet above sea level and visiting the ancient monasteries, palaces and villages around Leh. We then drive west of Leh past the town of Kargil and travel south into the valley of Zanskar, one of the coldest inhabited places on earth. Starting the trip on the Stod river, we begin our self contained multi-day river adventure down the spectacular and scenic Zanskar river gorge. The trip takes you down the extremely desolate, remote and sheer Zanskar gorge with walls rising a few thousand feet out of the river bed, culminating on the mighty Indus river, (which incidentally lends India its name).
Undoubtedly a classic, this journey to the last truly lost horizon of our shrinking planet - Zanskar, the "land of white copper" is a trip of a lifetime.
Day 01: Delhi - Leh

Arrive Leh at 0800 Hrs. Transfer to hotel. Rest, hydrate and acclimatise. Overnight Leh hotel.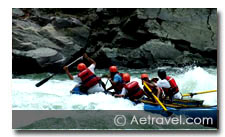 Day 02: Leh

Leh. Acclimatise and sightseeing. For the more energetic a visit to a few monasteries such as Shey, Thikse and Hemis will be arranged. Or choose to realx and walk into Leh town, to its exciting market and outdoor restaurants. Overnight Leh hotel.
Day 03: Leh - Kargil
Drive Leh - Kargil (3201m; 10500 ft ; 9-10 hrs). We drive from Leh to Mulbek - Kargil, through a spectacular moonscape. We drive over the Fotu La (14,000 ft), a high mountain pass and exit the Indus valley. Enroute, we do a photo stop above the Lamayuru monastery belonging to the 'Red Hat' sect. Overnight Kargil hotel.
Day 04: Drive Kargil - Rangdum (12,000ft) - Phey.

A spectacular drive past Panikar and Parkachik,with magnificent views of the Nun and Kun massifs (7000 metres),hanging glaciers and large meadows.We drive till Rangdum Gompa (12,000 ft) and stop for tea break and then continue with our journey to Phey. We drive over the Pensi La (14,500 ft), which enables grand views of the Zanskar peaks at the bottom of which is the Drung Durung glacier that feeds the Zanskar river, 40 km below, into which we flow trip the next day. Overnight tented camp.
Day 05: Phey - Karsha - Jangla
Early break fast and then we drive to Karsha Gompa. After visiting Karsha Monastery we start our rafting expedition near Karsha Gompa, (3496m; 11,466ft; 2 hrs) we raft 30 km in 3- 4 hrs which includes a break for lunch and hot beverages. We are surrounded by 6000 metre high peaks. River section today includes a Class II section, a good introduction for first timers as well as to the river in general. Settle into camp at Jangla by afternoon. Easy day to get used to the river, the altitude and hone our paddling skills.
Day 06: Jangla - Nyerak

After packing camp, we raft 25 km to Nyerak (3286m; 10,780ft; 3 hrs) a Class III section. The gorge narrows in on the river - this indeed is a Grand Canyon in its own right. We stop for the day to pitch camp in a gorge below Nyerak village.
Day 07 : Nyerak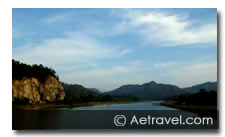 Rest day at Nyerak. Take a hike to Nyerak village or relax under the cool shade of the willows at our Campsite. Wash up at the campsite stream and enjoy the day off.
Day 08: Nyerak - Lamaguru
Today's 35 km rafting section takes us from Nyerak to Lamaguru (3190m; 10,465ft; 5-6 hrs including scout and lunch) through the core of the Zanskar A classic white water day with continuous Class III rapids, and a few Class IV rapid where the river squeezes between a gap of about 18ft. We stop for lunch near a huge waterfall and continue to camp at the confluence of Markha river with the Zanskar. Rock formations, spires and an amazing palette of colours add to the trip today. Camp.

After packing camp, we raft 25 km to Nyerak (3286m; 10,780ft; 3 hrs) a Class III section. The gorge narrows in on the river - this indeed is a Grand Canyon in its own right. We stop for the day to pitch camp in a gorge below Nyerak village

Day 09: Lamaguru - Nimmo
We raft 40 kms of Class III/IV white water from Lamaguru to Nimu (3154m; 10,345 ft; 3-4 hrs) today. We raft past the village of Chilling and exciting rapids as the Zanskar plunges out of the canyon to meet with the Indus at Nimu. We end our trip at the confluence of the Zanskar with the Indus. Drive an hour back to Leh. Last minute retail therapy and a hot shower! Overnight hotel.

Day 10: Leh - Pangong
Drive Leh - Pangong Lake 145 kms - Pangong Lake is 62 kms in length and at a height of 4,220 m. The ethereal beauty of the lake lies in rich deep blue colour of its water. Only 25 percent of the lake is in India while the rest of it extends into China. Overnight at Pangong

Day 11: Pangong - Leh
Drive back to Leh. Farewell bash at Leh in the evening.

Day 12: Leh - Delhi
Transfer to Leh airport. Fly Leh - Delhi.

Note: Flights to Leh and back are extremely difficult to book during the season.
CHECKLIST FOR ESSENTIAL PERSONAL ITEMS:
»
Warm Sleeping Bag (till 0'C or below at least)
»
Woolens / thermal underwear
»
Wind / rain proof jacket
»
Hiking / trekking shoes ; spare sandals
»
Woollen socks
»
Water Bottle
»
Flash Light and spare batteries - important
»
Sun Shade / Hat with Brim / woolen hat / gloves
»
Sunglasses
»
Sunscreen / Sun block
»
Vaseline / Lip Salve
»
Insect Repellent
»
Personal Toiletries - towels / soap etc.
»
Rucksack / duffel bag to carry your baggage
»
Small daypack to carry camera, packed lunch,
»
Water bottle and rain jacket on a walk.
»
Long trousers / long shirts / T-shirts etc

Program Cost - USD 2300 per person
The Cost includes -
»
All jeep transfers as mentioned in the itinerary
»
Airport transfers
»
Accommodation on twin share basis in tents / rest houses / hotels
»
All toll taxes and forest & panchayat fees
»
Porters and Ponies for the equipments to be carried to the put in point
»
All camping and rafting expeditions logistics including kitchen staff, support staff and trip leader (Instructors with an experience of 16 years of running the rivers)
»
All rafting gears for the trip
»
Accommodations during the raft in two men high altitude tents and carry mats and sleeping bags.
»
All meals while on the expeditions
Prices Do Not Include:
»
Any expenses of personal Nature.
»
Air Fare
»
Monument Entrance fees.
»
Guide charges.
»
Any thing not specifically mentioned under the head "Cost Include".
Company Liability:-
»
It is in the nature of a holiday of this kind to be flexible. The day to day agenda and ultimate goal of the tour is taken as an aim and not as a contractual obligation. We shall not be responsible for the delays or alterations in the program or expenses incurred due to conflict, international or internal flight delay or cancellations, strikes, sickness, weather, landslides, war, vehicle problems, political closures and disputes.
»
The booking is accepted on the understanding that you realize the potential risks and hazards that can be involved in holidays of this kind. Questrails, along with our associates/leaders/guides and any one else working in association with us can not be held responsible for any death, accident or mishap that may occur in connection with any part of, or services connected with the holiday.
»
The cost is for the entire package and there would be no refunds in case any part of the package is not availed.
»
The Company would not be liable to pay any kind of compensation arising because of any mishap, sickness, accident etc






Copyright ©AeTravel.com All Right Reserved (Copying of Text & Picture from this site is Strictly Prohibited).

Site Developed & Maintained by Ushainformatique.com & ElectronWeb.com