| | |
| --- | --- |
| | Explore Indian adventure with bikes or enjoy a jeep safari tour. |
Birding in Himalaya/Kangra

Trip Info
The Kangra district with its amazing diversity of habitats - which range from wetlands to alpine forests and from dry lowland steppes to snow-covered mountain peaks - is one of the most wildlife-rich areas in the western Himalayas. More than 550 species of birds and many interesting mammals have been reported. The small town of Dharamsala at 1500m, which is Situated in the green hills in front of the massive Dhauladhar mountain range and is famous for being the Dalai's residence, is an excellent base for exploring the different habitats of Kangra. Some of the most rewarding places for birdwatching around Dharamsala will be introduced below..

Dharamkot Hill :
Little above McLeod Ganj, the Tibetan settlement above Dharamsala at 1700m, starts the dense pine forest which covers Dharamkot Hill. It is possible to walk up to the Ghalu Temple at 2200m. Although the density of birds is not high, the diversity is remarkable. Warblers and Tits can be watched moving around in flocks, while one may enjoy the beautiful song of several species of thrushes, including Grey-winged Blackbird and Blue-capped Rock Thrush. Other passerines frequently encountered are redstarts, nuthatches, accentors, flycatchers and several species of finches. Larger birds include woodpeckers and pigeons as well as owls, which are difficult to see but easily heard at nighttime. Around Ghalu Temple you may hear the calls of Mountain Scops Owl, Asian Barred Owlet and Tawny Owl as well the mechanic staccato song of the Grey Nightjar
Dharamshala Tea Estate :
The Dharamsala tea gardens can be reached by taxi within less than 20 minutes. The habitat is diversified, the tea plantations are interspersed with scrub and small forests. Red Junglefowl and Kalij Pheasant are common, as ist the Grey Francolin. Trees and bushes are full of passerines, including flycatchers, buntings, thrushes and minivets. A speciality here is the Rosy Minivet, which is not uncommon during the summer months. Don't forget to watch the sky for swifts and soaring raptors. If you are lucky, you may even encounter a shy leopard.
The Higher Reaches of Dhauladhar: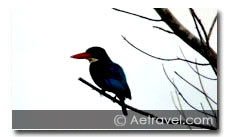 The serious birdwatcher will wish to do some high altitude birding, for which Dharamsala offers great opportunities. The Dhauladhar is home to many specialities of the Westhimalayas, the star birds being of pheasants. Kalij and Koklass pheasants as well as Himalayan Monals, the state bird of Himachal Pradesh, are relatively numerous and easy to see, while more secretive species include the rare Cheer Pheasant and Western Tragopan. As you walk higher up, you have good chances to encounter Himalayan Snowcocks and Snow Partridges, which are adapted to the inhospitable habitat above 4000m consisting of rocks and snow. The sky is filled with vultures and other raptors at any time of the day.
The Dhauladhar with its open rhododendron and oak forests, dense pine forests and grassy slopes is also rich in small birds. The mammal enthusiast may observe species like Goral, Blue Sheep or Yellow-throated Marten, all of which are not rare. The very lucky might even encounter a Snow Leopard.
An ideal trek to observe the wildlife of the Dhauladhar starts at Ghalu temple and leads via Triund and Ilaka up towards Indrahar pass at 4200m. Up to Ilaka at 3300m, the trail is broad and mounting gently, which makes it an ideal route. The area can be covered in three or four days.
Pong Wetland :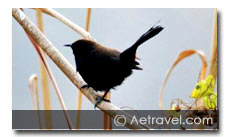 The Pong Lake, which has been artificially created in the 1970s, is a two-hours drive from Dharamsala. After the end of monsoon it covers a huge 400 sq Km and then gradually drains during the dry season, leaving vast steppe-like barren flats. Pong Dam teems with birds at any time of the year. It harbours up to 150'000 waterbirds in winter - ducks, cranes, egrets, shorebirds, gulls and thousands of Bar-headed Geese, which arrive from their breeding grounds on the Tibetan Plateau in autumn. Pong Dam is part of the Ramsar Convention, which aims to protect the world's most important wetland habitats.
In spring and autumn, tens of thousands of migratory birds, stop at Pong Dam. 45 species of shorebirds have been recorded, including many national rarities. In spring and summer, the huge breeding colonies of Terns and Pratincoles are a fascinating experience, while the flats around the lake are full of Larks and other passerines. Even a few pairs of the globally endangered and highly impressive Indian Skimmer breed. The Pong Lake can be approached from several locations, but the birdlife is usually most diverse near the small town of Nagrota Surian.






Copyright ©AeTravel.com All Right Reserved

(Copying of Text & Picture from this site is Strictly Prohibited).

Site Developed & Maintained by Ushainformatique.com & ElectronWeb.com